Google's first couple of tries at entering the streaming media STB business were pretty dreary, but its recently launched Android TV platform is poised to wreck some havoc in a market currently dominated by Apple TV and Roku, new research says.
IHS Technology is forecasting the global installed base of streaming media players to reach 50 million units by the end of this year.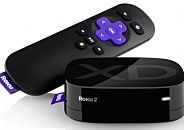 In the United States, the biggest market for the devices in the world, IHS forecasts a 50% increase year-over-year to more than 24 million units by the end of 2014, compared to 16 million in 2013, and up from 10 million in 2012, a 140% increase in two years.
But, it says, that's just a start. Through 2017, it expects an additional 175% increase from 2013, reaching more than 44 million streaming media players in the U.S.
The researcher said the continued increase in streaming media from services like Netflix, Amazon Prime Instant Video, Hulu Plus and others, continues to add life to the market. And, said Paul Erickson, senior analyst for the connected home at IHS, that spells trouble for Roku and Apple TV, which together control 94% of the market. While Amazon Fire, which launched earlier this year, has provided some new competition to the incumbent devices, "the arrival of Android TV is expected to significantly affect the competitive dynamics of this market over the long run," Erikson warned.
In addition to those streaming media devices, the U.S market alone also has 169 million Blu-ray Disc players, game consoles and Smart TVs.
The latest Android TV platform — like Apple TV and Roku – is a step up from earlier versions, offering improved functionality, a broader ecosystem, and a more refined user experience that's needed to compete with segment leaders.
Android TV offers several benefits it's lacked in the past; its user experience has been specifically designed for TV, it has a large library of content to offer from Google Play and from other third-party apps, and also allows users to search using advanced voice recognition.
Plus, it has Chromecast functionality built in, enabling media casting and screen mirroring from multiple device platforms.
Some industry pundits report that Apple TV recently has been losing share to Roku, but IHS isn't as convinced, pointing out that Apple's strong content ecosystem and loyal iOS customer base gives it a unique position in the ecosystem.
More at risk, it posits, is Roku, which doesn't have the same tie to a content ecosystem, and Amazon's Fire TV, which limits content search-and-discovery results to Amazon-sourced content alone.
While IHS makes some good points about the potential threat coming from Android TV, Google's track record with Hollywood – despite its slow move toward increased congeniality – remains a red flag. And, since Android TV is a software platform that will be used by a variety of CE devices, it lacks the brand recognition of Apple TV, Amazon Fire TV and even Roku.
Erickson contends that – much like Android's mobile OS — the vastness of its potential addressable market, at multiple price points, will make it a dangerous adversary.
Perhaps, but it will still need to overcome a history of irrelevance in a market that appears to already have chosen its champions.
– See more at: http://www.ooyala.com/videomind/blog/report-android-tv-will-shake-streaming-media-player-ecosystem#sthash.t84WtaZM.dpuf
Ketu mund te Komentoni!
komente
In this article