Big winnings for Beyonce! The global singing sensation celebrated her self-titled, fifth studio album's record-breaking release at Dave & Buster's in NYC on Thursday, Dec. 19 — with games and prizes galore!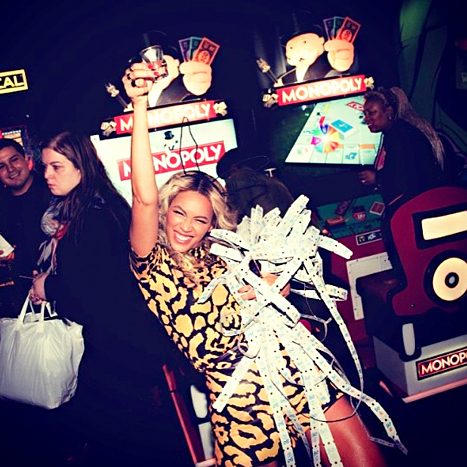 Following her performance at the Barclays Center in Brooklyn (which Madonna attended with 8-year-old daughter Mercy James), The "XO" singer scurried off to Manhattan to fete her latest successes. At the popular Times Square gaming spot, Jay Z's wife, 32, played Dance Dance Revolution, posed for many pictures, took a shot with party guests — all while wearing sunglasses, naturally.
PHOTOS: Beyonce's amazing body evolution
She even posed with her massive celebratory cake, which was designed in the shape of an old-school record and emblazoned with her album title, written in purple frosting. The confection was created by famed Hoboken sweet spot, Carlo's Bakery of Cake Boss. "It was a request from Beyonce and her team," an insider tells Us Weekly. "We replicated the look of her Disc in a 16″ chocolate cake and added a lot of assorted cupcakes."
PHOTOS: Beyonce's sexy bikini body
Queen Bey also handed out party favors — light up bows from her "XO" video and black tumblers marked with the album title — to her delighted guests including rapper Drake. The Nothing Was the Same crooner, 27, took to the stage to congratulate those who worked on Beyonce and added, "Of course, to the Queen, the utmost congratulations." Drizzy guests on the singer's track "Mine" and costars in the accompanying music video.
The sexy songstress, who dropped her new solo album album last Friday in a shocking move, has sold over 1 million copies worldwide since its release — catapulting Beyonce to top-selling R&B album of 2013 within one week. "I see music. It's more than just what I hear," Blue Ivy's mom said in a Facebook post following Beyonce's release. "When I'm connected to something, I immediately see a visual or a series of images that are tied to a feeling or an emotion."
With just a few shows remaining in the 2013 leg of her Mrs. Carter Show World Tour, Beyonce will close out her final show at the Barclays Center on Sunday, Dec. 22.
Ketu mund te Komentoni!
komente